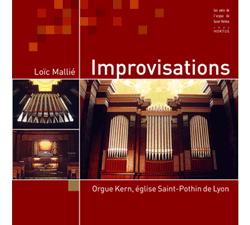 Loïc Mallié

The best perforances of one of the most wellknown French improvisers.
These improvisations present the extraordinarily rich sound range of the new great organ. Loïc Mallié, Grand Prize of Chartres, is professor of composition and improvisation at the Lyons Conservatory and at the Conservatory of San Sebastián (Spain).
Loïc Mallié, orgue

HORTUS 026
T.T. 56'55
1 CD
DDD
© 2004
<!-AFFICHAGE PRIX / PROMO->
15,00 €

<!-FIN AFFICHAGE PRIX / PROMO->
By the same composer
HORTUS 917
Le retour de Bayre...
Onze improvisation...
Orgue Merklin de l'Eglise Saint-Pothin de Lyon

Detailed program
HORTUS 026 | CD DDD ℗ Amis de l'Orgue de Saint-Pothin 2004 | T.T. 56'55
Loïc Mallié
1.
Dialogue de Flûtes
7'40
2.
Autour des Principaux
6'04
3.
Quand les Pleins-Jeux s'emmêlent
4'53
4.
Les anches "solo"
3'12
5.
Dialogue de Cornets, Clarinette et Hautbois
6'56
6.
Avanti : crescendo du pp au ff
7'35
7.
Le doux délire des mélanges creux
4'20
8.
Un Cor Anglais bien "français" et une Voix bien Humaine
11'44
9.
Délires alleluïatiques
4'55