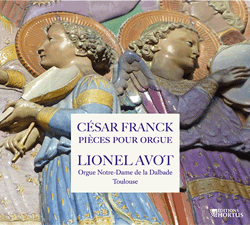 Pièces pour orgue

'When listening to Franck's works, I, who have no faith, feel that same powerful uneasiness, that same fearsome admiration that I get from the site of the Bruges cathedrals' (Octave Mirbeau). After his training by Jean Boyer et Aude Heurtematte, Lionel Avot was awarded the third prize for the International César Franck Competition 1998 in St Bavo's Cathedral at Haarlem (The Netherlands). Since 1999 Lionel Avot has been a music teacher at the Jehan Alain School in Epinay-sur-Orge (France). Assistant organist at the Etoile Church in Paris (France), Lionel Avot is also a consultant for the Music Department in the French radio broadcasting public service (Radio France).
Lionel Avot, orgue

HORTUS 083
T.T. 59'09
1 CD
DDD
© 2010
<!-AFFICHAGE PRIX / PROMO->
15,00 €

<!-FIN AFFICHAGE PRIX / PROMO->
By the same composer
HORTUS 049
Du Roi des cieux t...
Musique sacr&eacut...
Grand orgue Eugène Puget de l'Eglise Notre-Dame de la Dalbade de Toulouse

Detailed program
HORTUS 083 | CD DDD ℗ Hortus | T.T. 59'09
César FRANCK (1822-1890)
Trois pièces
1.
fantaisie en La Majeur
15'52
2.
Cantabile
7'12
3.
Pièce Héroïque
8'45
Prélude, Fugue, Variation
4.
Andantino
3'28
5.
Lento - Allegro ma non troppo
3'58
6.
Variation : Andantino
3'39
Premier Choral en Mi Majeur
7.
Premier Choral en Mi Majeur
16'13