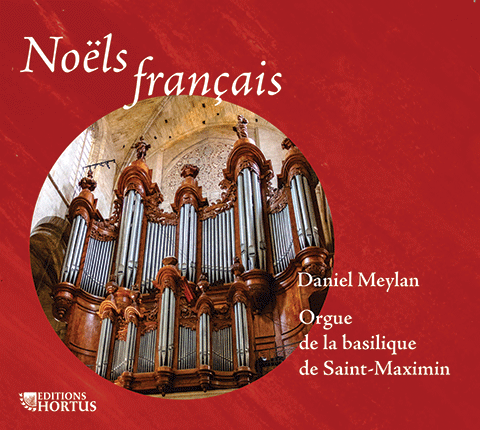 Popular music in the noble sense of the term, French noëls have long sustained their appeal for a broad audience, their picturesque, descriptive character being indissociable from pastoral scenes of the creche (Noël provençal, Où s'en vont ces gais bergers, Or nous dites Marie...). The extraordinary diversity of the historic Saint-Maximin organ's sonorities marvellously renders the poetic charm of the fifes, drums and musettes, in an echo to the stately pomp of the organ's grands-jeux.
Daniel Meylan, orgue

HORTUS 173
T.T. 72'00
1 CD
DDD
© 2019
<!-AFFICHAGE PRIX / PROMO->
15,00 €
Because of the sanitary situation in the entire world, we are suspending the shipment until further notice. Our references are all available on the streaming and download platforms. Take care of yourselves, and may music accompany you all.
<!-FIN AFFICHAGE PRIX / PROMO->
By the same composer
Orgue Isnard de l'Basilique de Saint-Maximin-la-Sainte-Baume

Detailed program
HORTUS 173 | CD DDD ℗ Hortus 2019 | T.T. 72'00
Jean-François Dandrieu (1682-1738)
1.
Chantons de voix hautaine
5'21
2.
Noël de Saintonge
2'43
3.
Or nous dites Marie
5'25
Louis-Claude DAQUIN (1694-1772)
Livre de Noëls
4.
Noël, sur les jeux d'Anches, sans tremblant, et en duo
6'08
5.
Noël, Grand Jeu et duo
6'17
6.
Noël, en récit en taille
7'08
Michel Corrette (1707-1795)
Nouveau Livre de noëls
7.
Vous qui désirez sans fin
6'30
8.
Je me suis levé
5'02
9.
Noël provençal
2'12
Claude-Bénigne Balbastre (1727-1799)
10.
Joseph est bien marié
5'31
11.
Où s'en vont ces gais bergers ?
6'09
12.
Au jô deu de pubelle
2'07
Daniel Meylan (1953)
13.
Voici le jour solennel
11'21